Celebrating a Successful July at Aim Higher Training!
Empowering Growth, Achieving Dreams
We are delighted to share the highlights and achievements of an eventful and rewarding month – July. Throughout this month, our commitment to delivering high quality training and unwavering support to our learners has remained at the forefront of everything we do. Let's take a closer look at the exciting developments that have taken place.
Delivering High-Quality Training:
At Aim Higher Training, our mission has always been to provide industry-relevant, high-quality training that equips learners with the skills and knowledge needed to excel in their respective fields. In July, our team went above and beyond to ensure that every training programme was tailored to meet the specific needs of our learners.
With practical hands-on sessions, we have strived to create an engaging and supportive learning environment. The positive feedback we have received from our learners is a testament to the dedication of the support we offer and the effectiveness of our training approach.
Supporting Learners in Qualification Completion:
July has been a month filled with milestones and achievements as many of our learners have been working towards the successful completion of their qualifications! We couldn't be prouder of their hard work, determination, and dedication to their studies.
Our support services have played a vital role in this success. We believe in providing individualised attention and encouragement to each learner, understanding that everyone's journey is unique. Whether it was assisting with coursework, offering study resources, or providing mentorship, we are committed to guiding our learners every step of the way.
Coaching Clients Towards Career Change and Progression:
In addition to our training programmes, our career coaching services have been in high demand. July saw us actively partnering with clients who sought guidance in making significant career changes or advancing their professional journeys.
Our approach towards career coaching has been instrumental in helping clients identify their strengths, assess their career goals, and develop comprehensive plans for their desired career paths. Witnessing the transformation and newfound confidence of our clients as they embark on these journeys has been incredibly gratifying.
Blog posts on Improving your Working Life
At Aim Higher Training, we understand the importance of a balanced and fulfilling work-life experience. We believe that creating a happier and healthier working environment is essential for the overall well-being and productivity of individuals. That's why we have dedicated a series of insightful blog posts to help you develop a better work-life balance and foster a positive atmosphere in your workplace.
Read some of our latest blog posts.

Empowering Your Career: The Significance of Income and Salary Expectations When it comes to career development and direction, there are several factors to consider, but one aspect that holds tremendous importance is income and salary expectations…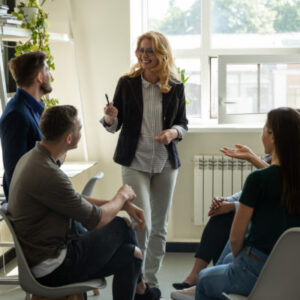 In today's fast-paced world, where productivity and efficiency are highly valued, it's easy to overlook the importance of a good working environment. However, the truth is that a positive work environment plays a crucial role in fostering a healthy work culture…

Finding work you truly love goes beyond job satisfaction and aligning with your passions—it also involves fostering positive working relationships. Building connections and maintaining healthy interactions in the workplace play a pivotal role in your professional fulfillment…
Top Tips For a Better Work-Life Balance
Download our free 22-page PDF guide covering 70 simple self-improvement tips to help achieve a better work-life balance!
Spotlight on Work-Life Balance
This course is one of our series of Spotlight courses which are short sessions providing an opportunity to dip your toe in the water to study a new subject.
These short courses are designed to be taster sessions and will also provide value in terms of helping you to learn some tools to support your personal growth.
Looking Ahead:
As we bid farewell to July, we are excited about the opportunities that lie ahead. The passion and dedication of our team, combined with the unwavering support of our learners, clients, and partners, inspire us to continue our mission of empowering growth and achieving dreams.
In the coming months, we are determined to expand our course offerings, enhance our support services, and explore innovative ways to elevate the learning experience for all. Together, we will continue to aim higher and strive for excellence.
Thank you for being a part of our journey, and we look forward to sharing more success stories with you in the future.
Wishing you all a fantastic August!
Monthly Round-Up – July Edition